About Forest-Shores Realty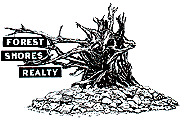 We are located 5 miles south of Baldwin in the heart of the best fishing, hunting, camping and recreation in Michigan. Our office is open 10 am to 4 pm Monday through Saturday, and Sunday by appointment. Watch for our one-of-a-kind pine tree stump sign along the east side of M-37, at the corner of M-37 and South L Lakes Drive.
Lake County is home to over 156 crystal clear lakes, 46 beautiful trout streams and offers over 200,000 acres of public land. It is hard to find a nicer place to live or have a vacation home. Check out our listings and see if there is something that catches your eye.
If you are contemplating selling property you own in the area, the 41 years of real estate experience in Baldwin and lifetime county residency of your broker, are just two of the tools provided to find the right buyer for your property. Give us a call, and Forest Shores will do the rest!!
Fred Lewellyn – Broker/Owner